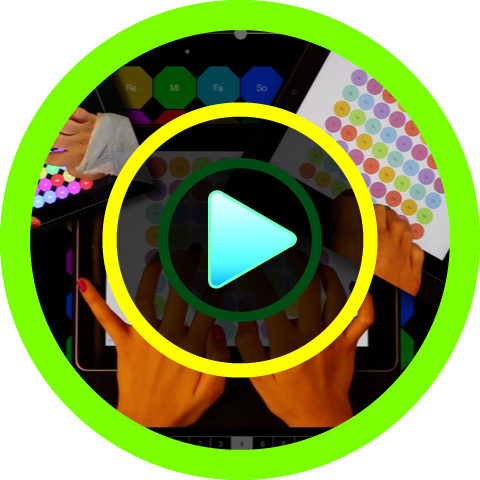 BandojoPlus for Mac
…a musical instrument you can learn to play just by exploring
Co-create beautiful music along with Bandojo's inspiring accompaniments.
Choose a texture…stimulate your creativity with exotic sounds, rhythms, and harmonies. The Sound Sensei controls the scale and the rhythm to fit within each sound environment.
Play alone or with friends on your desktop or laptop computer, iPhone and iPad.

Play on a colorful Melody Palette in five ways
Glide your mouse around the Melody Palette.
Play from your computer keyboard.
Plug in a MIDI keyboard.
Wirelessly connect your iPad or iPhone to use as an additional touchscreen controller.
Attach a Bandojo-enabled physical controller and play by touching objects or moving through space.
Or do them all at once.
Enjoy continually varying musical textures
Many styles, scales, modes, and moods.
Over 60 different immersive sound textures included.
Textures serve as accompaniments to your melody creations, or provide satisfying musical ambience on their own.
Engender calm and centering with the new Serenity suite of textures.
Choose your Melody instrument
16 different melody instruments available for each accompaniment you choose.
A different combination of melody instruments for each musical texture.
Wide range of choices, including dulcimer, banjo, viola, harp…and distortion guitar.
Reeds, strings, keyboards, brass, pads and world instruments.
Includes percussion and sound effects.
Clickless interface
Hover over your choices to activate.
Virtually every button, tab and note is accessible without clicking.
Control the experience…or be carried along with the flow
Choose an accompaniment to fit your mood…or allow the accompaniment textures to cycle continuously.
Choose the key, mode, tempo, volume…or let the Sound Sensei choose and change your melody to match.
Play rhythms freely…or use Rhythm Lock to guide you towards simpler or more complex play.
Play wirelessly with friends
Collaborate or jam.
Hosting the group using BandojoPlus for Mac enables you to play with up to 16 of your closest friends on iPhone, iPad and desktop or laptop computer.
Use Bandojo with BandojoPlus: the best of both worlds
Superior sound and more instrument choices from your desktop or laptop computer.
Touchscreen interface from your iPhone or iPad allows sweeping and tapping with one, two or more fingers to create chords and clusters of sound.
Use your desktop or laptop mouse and keyboard, your MIDI keyboard, and your iOS touchscreen devices simultaneously.
Bandojo is available for iPhone and iPad at the App Store, while BandojoPlus for Mac is available on this website.
Learn while you play
Melody Palette button labels show solfege, scale numbers, pitch names and octave registers.
Four Melody Palette sizes—3 x 3, 5 x 5, 6 x 6 and 8 x 8—allow players to start simple and grow their skills.
Harmony controls let you dynamically change the accompaniment's chord root to create chord progressions.
Explore music theory through displays showing the structure of the current scale, tuning and pitch set, as well as controls to change these and even the accompaniment's chord types.
Experience other cultures by making music using scales, tunings and instruments from around the world.
Song Sheets make it easy to learn to play your favorite melodies.
Help is at hand
BandojoPlus offers in-app, interactive help.
Choose a help topic, read about the possibilities, then make changes and activate the controls right there in the help window.
Fill in more details through the on-line FAQ, plus relevant discussions within the iPad help page.
Record and share your creations
Record CD-quality, shareable audio files, and play them back.
Create soundtracks for your videos, your games…or your life.
Adaptive interfaces let everyone play
Minimize interface complexity through simplified GUI modes and smaller-size Melody Palettes.
Connect adaptive/assistive physical controllers using BandojoPlus's xDev extension (info available upon request).
When using iPads as touchscreen controllers, attach tactile guards and screen overlays to accommodate vision and mobility limitations.
Mix interfaces within an ensemble so that everyone can participate at their own level or with their own interface adaptations.