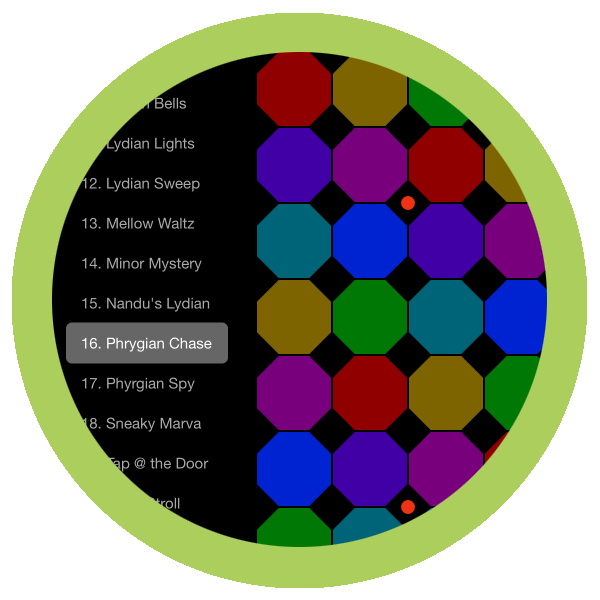 Welcome to Bandojo for Education
Bandojo is an easy-to-play, collaborative musical instrument.
We offer site licenses to support education for students of all ages.
Pre-Kindergarten
Elementary School
Middle School
High School
Why music?
It's fun! It's engaging! You can do it alone, with a friend, or with an entire ensemble of friends.
Music is a great medium for creativity and self expression. It can help kids to focus and calm themselves, or to wake up and move their bodies, to play together or to create their own safe quiet space.
Music making on Bandojo adds an exciting new dimension to storytelling, creative arts, and exploration of the world's cultures. It can easily be incorporated into lessons that support Common Core standards in literacy and math.
Plus, research has shown that there is a correlation between musical training and enhanced performance in several types of executive function, as well as in verbal fluency and processing speed in children. Improved performance in these areas can support increased academic achievement.1
1Zuk, J., Benjamin, C., Kenyon, A., and Gaab, N. (2014). Behavioral and neural correlates of executive functioning in musicians and non-musicians. PLoS ONE 9(6):e99868. doi: 10.1371/journal.pone.0099868
How can my students use Bandojo?
Students can use Bandojo to expand opportunities for creativity by creating "soundtracks" for storytelling and literature or for class presentations and projects. They can learn important lessons in communication and self regulation, such as working collaboratively and taking turns. They can work on pattern recognition and sequencing. They can perform a variety of fine motor tasks. And of course, they can learn about how music works.
Just play!
Bandojo teaches music making through immersion.
Users can play right away, even if they have never played a musical instrument before. This makes it ideal for students who have little or no prior experience creating music. The app also offers features that help users learn more about how music works. One such feature is the solfege overlay for the color-coded Melody Palette. When solfege is applied, every button on the Palette has a solfege label, so pitch relationships are clearer. The user can choose from the following:
Modal Movable-Do Solfege: Do Re Mi 
Modal Movable-La (Kodaly) Solfege: La Ti Do
Indian Solfege: Sa Re Ga
Byzantine Solfege: Ni Pa Vu
Scale Degree Numbers: 1 2 3
Pitch Names: C D E
Feature Highlights
Quick Start overlay explains features and controls so users can play right away.
Color-coded Melody Palette enables play of melodies, chords and clusters of sound.
Includes 40 accompaniments generated in real time.
Additional accompaniments influenced by many cultures, styles, and genres coming soon.
16 different melody instruments, including dulcimer, banjo, viola, harp and distortion guitar.
Includes percussion and sound effects.
Rhythm Lock (TM) helps users to synchronize rhythmically with accompaniments and each other.
Solfege overlays on Melody Palette buttons show pitch relationships.
Collaborate or jam over a local area network using Group Play.
Bandojo is available to educational institutions, music therapists, speech-language pathologists, and occupational therapists. Complete our RSVP Form to inquire about site licenses, support, activities, and training.